Carrier Dealer Hall of Fame Congratulations Dave Hutchins – Florida's First Hall of Fame Dealer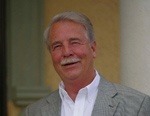 On April 1, 2011, Dave Hutchins was inducted into the Carrier Hall of Fame.  At the conference held in Las Vegas, Carrier said: "Times may change, but strong principles do not. As recognition for a lifetime of service, the Carrier Dealer Hall of Fame raises up those individuals whose abiding integrity in action has been the result of their resolute commitment to high principles. In lean times and in prosperous, these dealers have demonstrated an unwavering determination to be of service, to "give back", and to stand behind each promise to their associates, employees, customers and communities. When measured by the number they have served throughout a lifetime, these individuals have set an example that deserves far more than their recognition. It is worthy of the respect and emulation of dealers throughout the industry. The Carrier Dealer Hall of Fame is a lifetime achievement award, given to a person who exemplifies the dedication of a lifetime of service and contribution to the HVAC industry, the employees, the customers and the community."
---
Carrier President's Award – 2007, 2009, 2010, 2011, 2012, 2015, 2016, 2017
Bay Area Receives 2011 President's Award from Carrier Corp.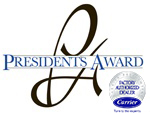 In April of 2017 Bay Area was awarded their 8th President's award at a conference in Las Vegas. "Carrier President's Award recipients focus on delivering exceptional products and service to customers while appropriately leveraging the value and trust behind America's first, true HVAC brand. Their successes often exceed our expectations. It's our privilege to honor them," said Bob McDonough, president, Residential and Commercial Systems, Carrier Corp. "Winners will enjoy added rewards in the form of support from the Carrier family exclusive to President's Award recipients, and therefore, continue to shape, grow and succeed in their business."
---
Bay Area Earns Coveted Angie's List SUPER SERVICE Award.

Bay Area Air Conditioning, Inc. & Heating has been awarded the prestigious 2011 Angie's List Super Service Award, an honor bestowed annually on approximately 5 percent of all the businesses rated on the nation's leading provider of consumer reviews on local service and health providers. … "Only a fraction of the businesses rated on Angie's List can claim the sterling service record of being a Super Service Award…"
---
Citrus County Chronicle
Best of the Best Winner – Since 1996 – 16 Consecutive Years
"Once again we are honored to be voted and recognized by our community and we thank Citrus County for their continual support" – Dave Hutchins, President and Founder, Bay Area Air Conditioning, Inc. & Heating,  and Co-Workers
Bay Area Air Conditioning, Inc.
August 7, 2017
2023/09/21