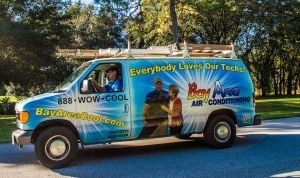 We offer same day service on all calls and emergencies.
We employ 25 highly professional Service Techs, with an average of 20 years experience.
Our Service Techs are nationally certified (NATE).
We offer nationally acclaimed customer service; Scoring 9.9 out of 10.
We have 2 locations and over 20 trucks – one is probably in your area!
We are available 24/7 to answer your call. Contact us anytime!
We have been trusted by homeowners in the community for over 40 years.
We have over 60,000 repeat customers.
Our service trucks carry the area's most extensive parts inventory.
We quote repair prices before doing work.
Our repairs are guaranteed for 2 years.
We have performed over 1 million service calls.
We have installed over 30,000 new air conditioning systems.
Our management team averages 30 years experience.
We design and install the best air conditioning solution for your home.
We ensure your duct system is fully functional.
Our service contracts are licensed through the State of Florida.
Our service call fee is only $87 and includes unlimited diagnostic time.
We provide written documentation of performance data for new installations.
We are fully licensed and insured and pull permits on all jobs.
Ask About Bay Area's Silver contract – Only $247 and includes: unlimited service trips, a yearly high performance tune-up and a 30% discount off repairs.
Bay Area Air Conditioning, Inc.
August 7, 2017
2023/06/07